Join Internationally acclaimed Landscape Photographer Mieke Boynton for a sunset shoot at the iconic Princes Pier in Port Melbourne and learn how to "see like a camera" in order to capture the jaw-dropping beauty of landscapes during the fast-changing light of sunset
Through a combination of theory and practice, this introductory course will teach you how to set up and customise your camera for landscape photography and will give you a solid understanding of the fundamental principles and practices for capturing beautiful landscape images.
An initial one-hour step-by-step session will provide you with a comprehensive theoretical understanding of your camera and how it interacts with the environment, which will then be followed by a hands-on sunset shoot at the Pier with Mieke where you will put your newfound knowledge into practice and capture the iconic pylons at sunset.
Skill level: Beginner.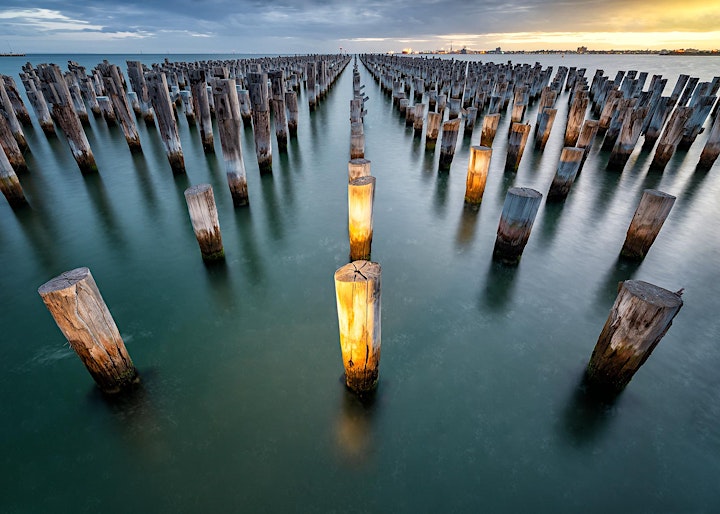 Topics Covered:
• Understanding ISO, aperture and shutter speed
• Depth of Field for Landscape Photography
• Aperture Priority or Manual Mode?
• RAW or JPEG?
• Using the Histogram and highlight identification
• Lens selection
• Long exposures – tripods, vibration reduction, filters
• Isolating the subject and other compositional elements
• The impact of the sun's location
• Getting a level horizon every time
What to Bring:
• A DSLR or Mirrorless camera
• Fully charged battery (and a spare if available)
• Lenses (wide angle, standard zoom and telephoto zoom recommended)
• Spare memory cards
• Sturdy tripod
• Remote shutter release (optional)
• Polarising filter and ND Filters (optional)
• Suitable clothing for the weather forecast (Please check!)
• Your camera instruction manual
Please note that parking can be tricky. Free parking is available on beach Street, Beacon Vista and The Crescent.
For more course information or enquiries phone:
1300 851 435 (Mon-Fri 9-5 PM AEDT)